9 to 5 just isn't our thing.
Videography & Photography


Visual Content Strategy
To kick things off we dive deep into your visual content strategy, scope of the project, campaign planning, and organize brand assets and brand guidelines.


Video Production
We capture the energy, connections and fun that happens on and off the stage. From small event AV to large event complete behind the scenes, b roll, testimonials, event photography and boots on the ground. social media, we are your. go to event. visual content team!


Post Production
Our dedicated team of professional Premiere Pro & After Effects editors deliver great results, fast turnaround times and optimize content for cross-social platform dissemination.

Social. Media
Our dedicated social media team are ready to be boots on the ground capturing your event for real time social posts. Their focus is to post for optimization, attract and convert your audience into engaged followers and opt-in click through conversions with video content, and photo content.


Phase 1 : Podcast Strategy
There is more to a podcast than just recording audio. In this phase we not only build our your launch strategy & structure but go through the 14 steps we take to prepare to launch your branded podcast and set up your social media for podcast launch success.


Phase 2: Podcast Booking
We have booked Grant Cardone, Ryan Serhant, Robert Kiyosaki, Leigh Steinberg and many more. In this phase we help you identify your target audience, craft your pitch, create your brand guide & set your social media strategy into motion.


Phase 3: Podcast Launch Plan
You have to maintain a system that supports consistency your audience can rely on. In this phase we go through the steps it takes to not only launch a podcast, but build a podcast brand, social media presence, identity and authority.


Phase 4: Podcast Production
We produce, manage and get your podcast our to the masses. In this phase we record, edit and post your podcast EVERYWHERE. In studio & mobile podcast production available. Podcast + social media management packages available.

Social Media Content & Management


Behind The Scenes
This is where we shine. Capturing behind the scenes lifestyle and event content that is perfect for your social media platforms to showcase candid, real, authentic moments is our specialty. We have filmed and photographed private jet coaching and lifestyle shoots, CEO, keynote speaker and influencer content across the US and abroad.


the goal: be everywhere
When your event in the main room is over, we keep working. In fact, we are there before it begins too! We capture welcome receptions, VIP parties, dinners and more to not only share what happens on the stage, but the magic, connections and fun that happens off the stage at your events.


Get Social...in real time!
Filming and photographing events is the perfect time to capture and share real time social media content. We go LIVE from your event for those who can't attend and download photos instantly to share with your social team or we can do the posting for you during the entire event. Our social media team is available for for social media management services with full podcast and multi event contracts only.
We are passionate visual storytellers specializing in behind the scenes content for
today's personal brands, travel & lifestyle brands, and events of all sizes.
Types of Videos We Create & Share
Getting on the ground, behind the scenes, authentic footage at your event to truly capture the full event experience is our specialty. Event video coverage is a great way to build brand awareness for your company, promote your next event, create ad content or simply share the excitement of what your event is all about. From large events like Traffic and Conversion Summit to exclusive, high level masterminds and health and wellness retreats, our experience speaks for itself.
Short Form Video is "Queen"
Whether you are
selling products, services or
promoting an event, telling the story visually of how, why and who made it all possible in bite size, consumable content rules the online experience in todays digital space. We have successfully filmed, edited and shared via our clients social media channels THOUSANDS of micro video content for TikTok, Reels, Stories and youTube shorts with all the latest on video captions, tags, keyword titles and CTA'S .  
Enterpreneurs & Inflencers
Gary V set the tone. Capture what you are already doing and give people a glimpse into a day in the life of a hustling entrepreneur. Today, it is a must to have your personal brand on video. From social media platforms and stories to creating video marketing ads, you need a team that can help capture and edit  your branded media content. From podcasts to private jets, travel and red carpets, we have produced and launched daily branded macro and micro content for the past 6+ years.
We are always open to customizing solutions for you. We throw the illusionary box out the window and give creative, brand-focused solutions total freedom.
Social posts with video show an 80% higher engagement and conversion rate over those with
only an image? Your audience is online, and a vast majority of them are on social media. What
does this mean? Video is what you need to be pushing out and we are
here to be your partner in getting that job done.
How do I launch a podcast?
Start the journey of creating your own show from scratch. VERB has launched and produced 50+ shows and can walk you through every step of the process.  From strategy session to hosting set up, show notes RSS feed destinations, we go you.  

Show customized to your brand

Exclusive rights to the content

Full control of the show

"To make the journey and not fall deeply in love - well, you haven't lived a life at all." -William Parrish
Our wedding packages are not capped at 8 hours like so many other wedding content creators. When we say full day, we mean it. We show up early and stay late. We want you to see the sentimental moments that happen before the dress, before the tux or cowboy boots, before the guests arrive and long after that perfect first dance. We feel so honored to capture it all and BR EVERYWHERE for your big "I DO" day.
A bit more about us:
We thrive on creating visually compelling content that helps drive sales, engagement and awareness. Our enthusiasm is contagious. We cherish our relationships with our clients. We value family above all else. We are digital mavens, road trip warriors, wine sipping collaborators, hashtag devotees, and positive mindset advocates.
Other packages:
We offer hourly rates as well as full day, half day and customized package rates that include videography, live-stream, photography, and live social media support for not only weddings but retreats, conferences, masterminds, personal branding and more. We specialize in behind the scenes candid content that captures unforgettable moments and help increase engagement, awareness, sales and reach.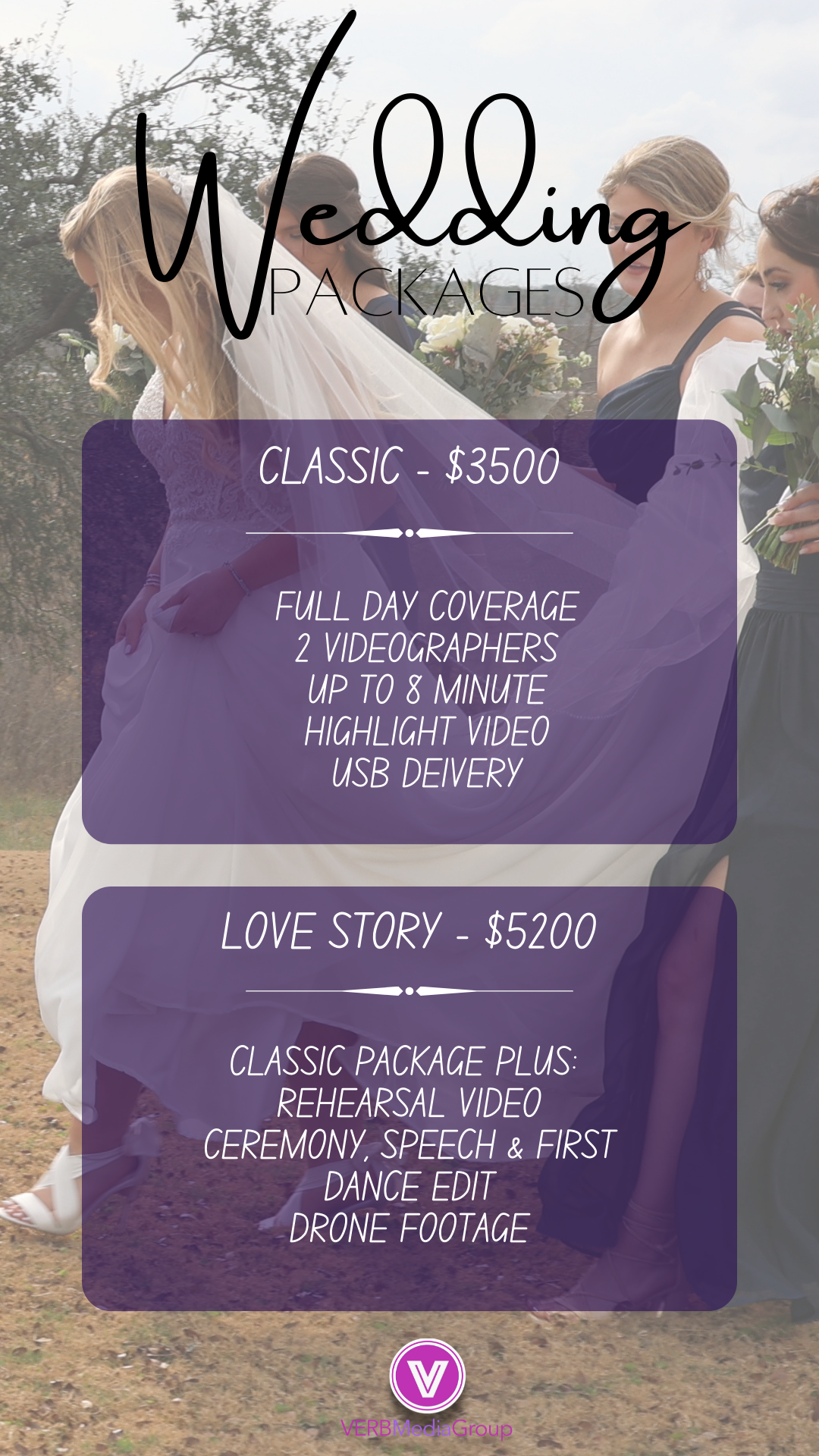 "Everyone LOVED IT!! It's so beautiful and heart warming. We all cried. I cannot THANK YOU enough. You did such an amazing job. We are so grateful for everything. It was breathtaking. You are so destined to do what you do. Beyond amazing."
We Are Always Ready To Talk About How VERB Can help You